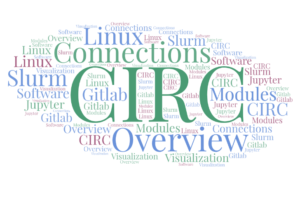 The Center for Integrated Research Computing (CIRC) will provide a workshop for learning about the University's computing environment for research on Friday, December 1st from 10:00 a.m. to 3:30 p.m. in the VISTA Collaboratory on the first floor of Carlson Library.
The morning sessions are targeted for new and beginning users, and the afternoon sessions will cover a few more in-depth topics and new tools and applications that are available for the research community.
All workshop attendees should bring a laptop and have a computing account on BlueHive, the University's high performance computing cluster.
There is no registration for the workshop. Feel free to show up at the times for the sessions outlined in the attached PDF as desired. Lunch will be served from 12 p.m. to 12:30 p.m.
If you have questions about the workshop, please use the contact-us form. Please feel free to share this invitation with all members of the research community.
Sessions are as follows:
Getting Connected
Overview of BlueHive and CIRC
Introduction to Linux
Lunch will be provided
Slurm Resource Management and Running Jobs on BlueHive
Modules and Software
Remote Visualization
Introduction to Jupyter
Introduction to GitLab