As a University-wide program, the Center for Integrated Research Computing fosters and supports a wide variety of academic disciplines, as well as innovative interdisciplinary and cross-division collaborations. The gallery below highlights some of the research projects that are supported by CIRC.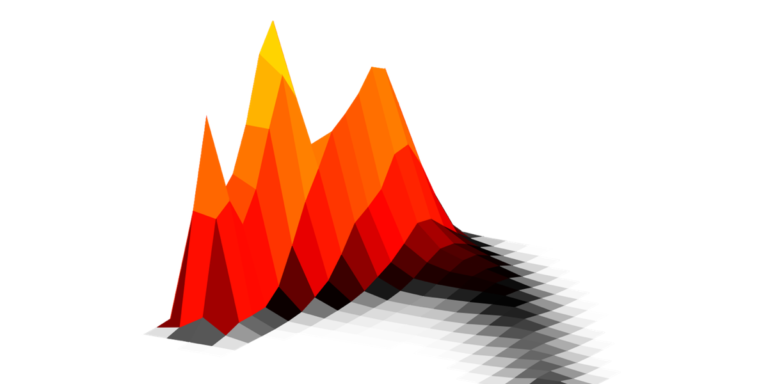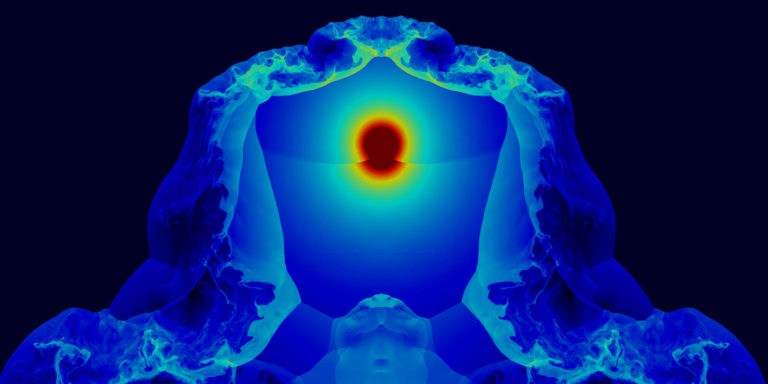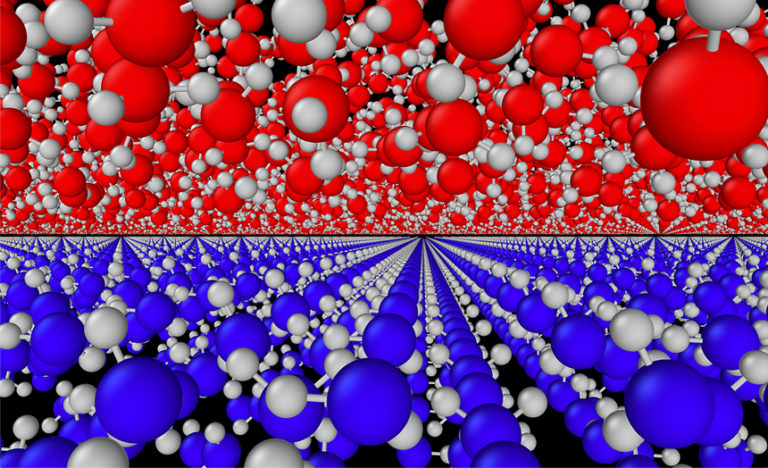 Molecular model of multiphase H2O (Blue: Ice VI and Red: Ice HDA) designed by Ali K. Shargh.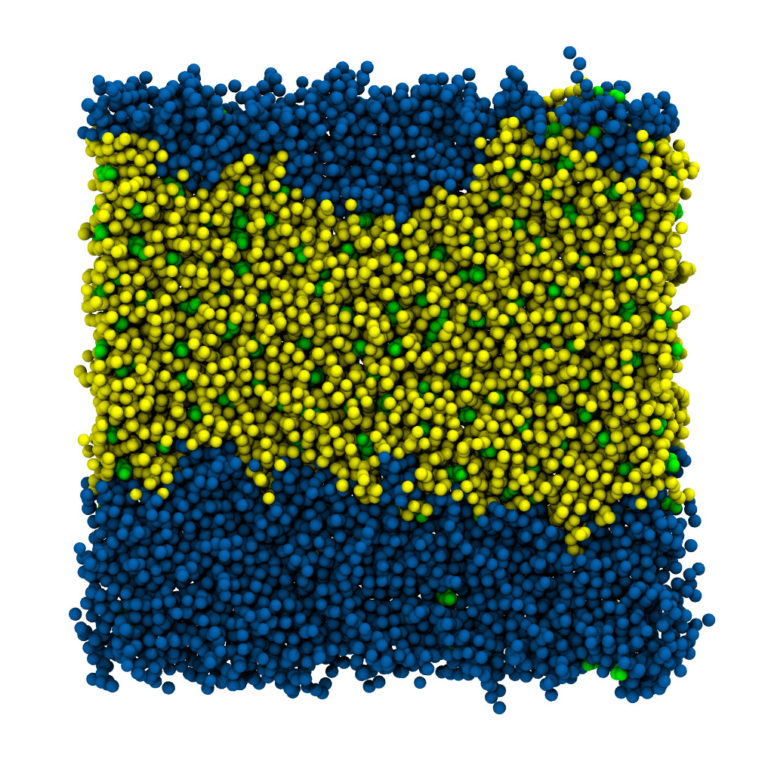 Illustration of DPPC-DAPC phase separation, courtesy of Grossfield Lab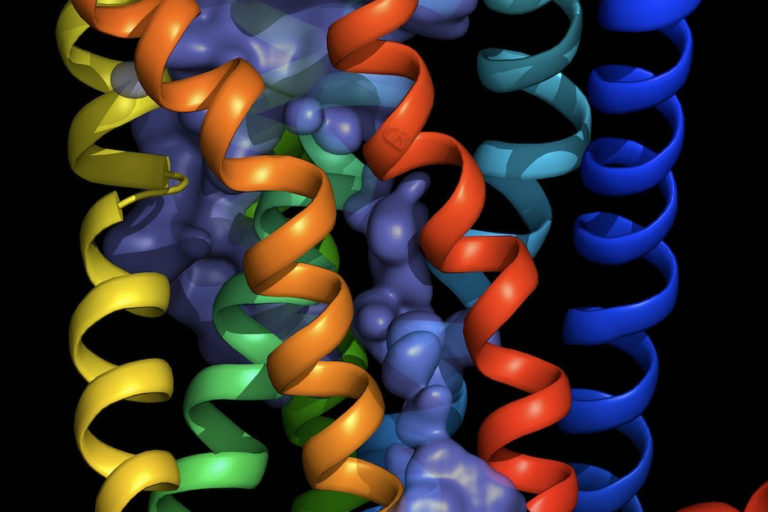 Illustration of internal water density from an all-atom simulation of the Beta-2 Adrenergic Receptor, courtesy of the Grossfield Lab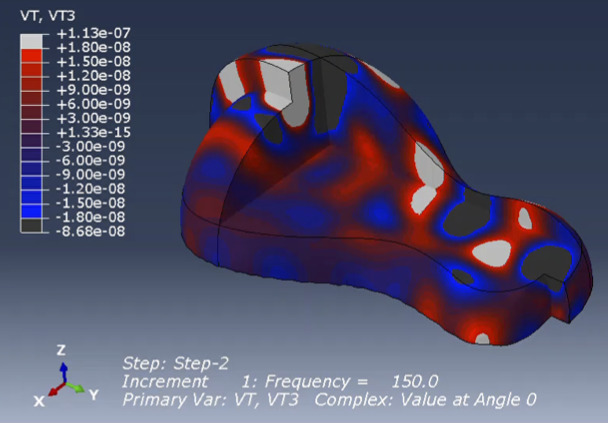 Reverberant Shear Wave Propagation within the Liver Model. Image courtesy of Sedigheh S. Poul and Kevin J. Parker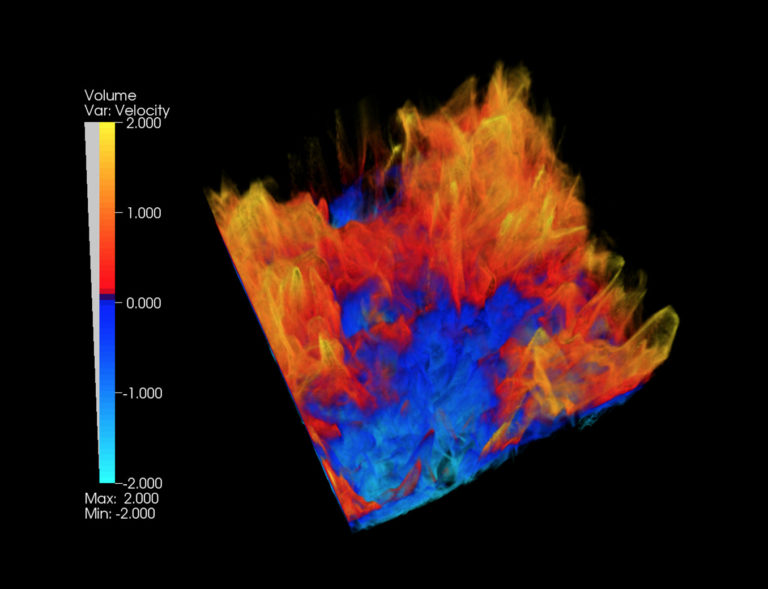 Turbulence driven by bipolar outflows from young stars. Image courtesy of Adam Frank (astrophysics)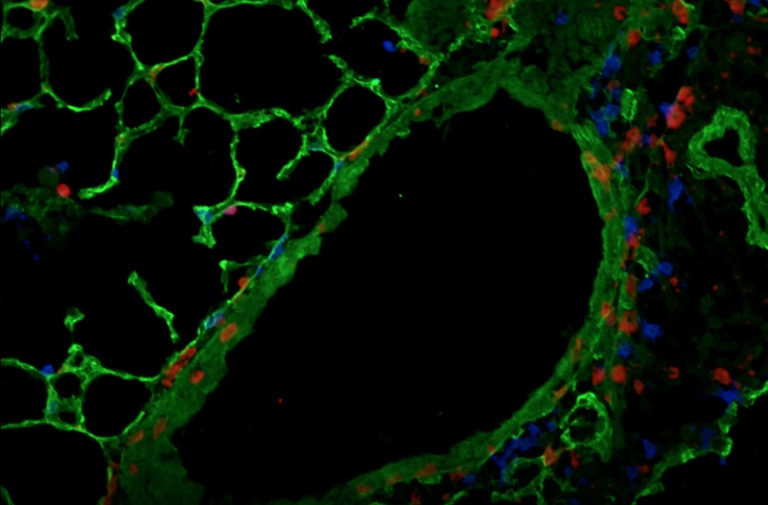 Microscopic view of mouse lung after infection with influenza. Image courtesy of David Topham (microbiology & immunology)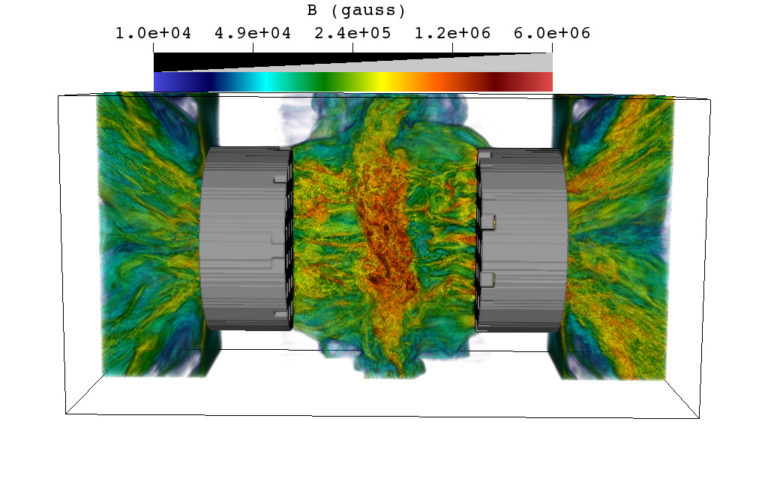 Image courtesy of Petros Tzeferacos and the Laboratory for Laser Energetics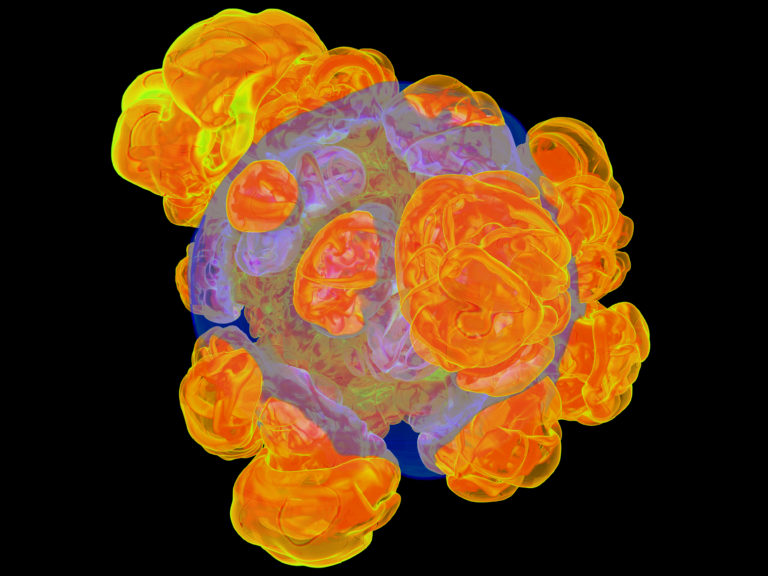 Image courtesy of Petros Tzeferacos and the Laboratory for Laser Energetics
The Center for Integrated Research Computing supports researchers from the School of Medicine and Dentistry and Arts, Sciences, and Engineering from the University of Rochester CIRC provides support for and collaborates with over 500 faculty sponsors from over 110 departments and centers. A description of the areas of research covered by the faculty are available here. Click on the name of the investigator to be taken to the corresponding individual or laboratory website.
The tool below showcases collaborators of CIRC. You can find collaborators by name, or search by research interests to find domain-specific research or locate potential collaborators.
Aaron White

Linguistics

Adam Frank

Physics & Astronomy

Adam Sefkow

Mechanical Engineering

Addisu Mesfin

Orthopaedics

Ajay Anand

Institute for Data Science

Alan Grossfield

Biochemistry and Biophysics

Alison Frontier

Chemistry

Amanda Larracuente

Biology

Amy Lerner

Biomedical Engineering

Anastassios Kalandrakis

Political Science

Andrea Cogliati

Electrical & Computer Engineering

Andrei Seluanov

Biology

Andrew Elliot

Psychology

Andrew Mcdavid

Biostatistics and Computational Biology

Andrew White

Chemical Engineering

Anne Meyer

Biology

Arjun Krishnan

Mathematics

Ashkan Ertefaie

Biostatistics and Computational Biology

Benjamin Miller

Dermatology

Bin Chen

Economics

Bradford Mahon

Brain and Cognitive Sciences

Brandon Barnett

Chemistry

Brian Keane

Psychiatry

Caitlyn Kennedy

Chemistry

Caroline Thirukumaran

Center for Musculoskeletal Research

Charles Thornton

Neurology

Charles Venuto

Neurology

Chenliang Xu

Computer Science

Chuang Ren

Mechanical Engineering

Chunlei Guo

The Institute of Optics

Clara Kielkopf

Biochemistry and Biophysics

Craig Morrell

Aab Cardiovascular Research Institute

Curtis Haas

Program Administrators

Curtis Signorino

Political Science

Cynthia Monaco

Department of Medicine, Infectious Disease

Daniel Gildea

Computer Science

Daven Presgraves

Biology

David Dodell-Feder

Psychology

David Foster

Chemical Engineering

David Lambert

Biology

David Linehan

Surgical Oncology

David Mathews

Biochemistry and Biophysics

David Mccamant

Chemistry

David Mitten

Orthopaedics

David Primo

Political Science

David Topham

Microbiology & Immunology

Dongmei Li

Clinical & Translational Research

Douglas Kelley

Mechanical Engineering

Douglas Turner

Chemistry

Duje Tadin

Brain and Cognitive Sciences

Edmund Lalor

Biomedical Engineering

Edward Brown

Biomedical Engineering

Edward Freedman

Neuroscience

Elaine Hill

Public Health Sciences

Elise Piazza

Brain and Cognitive Sciences

Eric Blackman

Physics & Astronomy

Farran Briggs

Neuroscience

Felix Yarovinsky

Microbiology & Immunology

Feng Lin

School of Nursing

Gary Morrow

Surgery

Gaurav Sharma

Electrical & Computer Engineering

George Porter

Pediatrics, Cardiology

Gilbert Collins

Mechanical Engineering

Giovanni Schifitto

Neurology

Gloria Pryhuber

Pediatrics, Neonatology

Gourab Ghoshal

Physics & Astronomy

Govind Agrawal

The Institute of Optics

Greg Schmidt

The Institute of Optics

Gregory Deangelis

Brain and Cognitive Sciences

Hanan Dery

Electrical & Computer Engineering

Hartmut Land

Biomedical Genetics

Henry Kautz

Computer Science

Hesam Askari

Mechanical Engineering

Huiwen Xu

Surgery

Hussein Aluie

Mechanical Engineering

Ignacio Franco

Chemistry

Inhwan Yeo

Radiation Oncology

James Fienup

The Institute of Optics

James Mcgrath

Biomedical Engineering

James Rygg

Laboratory For Laser Energetics

Jeanne Holden-Wiltse

Clinical & Translational Research

Jennifer Brisson

Biology

Jermaine Jenkins

Biochemistry and Biophysics

Jessica Shang

Mechanical Engineering

Jianhui Zhong

Imaging Sciences

Jiebo Luo

Computer Science

John Ashton

Biomedical Genetics

John Foxe

Neuroscience

John Lambropoulos

Mechanical Engineering

John Marciante

The Institute of Optics

John Nichol

Physics & Astronomy

John Palastro

Laboratory For Laser Energetics

John Singleton

Economics

John Werren

Biology

Joseph Eberly

Physics & Astronomy

Juilee Thakar

Microbiology & Immunology

Julian Meeks

Neuroscience

Justin Fay

Biology

Kathryn Knowles

Chemistry

Kevin Parker

Electrical & Computer Engineering

Kirsi Jarvinen-Seppo

Pediatrics. Allergy and Immunology

Kristin Scheible

Pediatrics, Neonatology

Krystel Huxlin

Ophthalmology

Lee Murray

Earth & Environmental Sciences

Lisa Delouise

Dermatology

Lisa Kahn

Economics

Machiel Blok

Physics & Astronomy

Madalina Tivarus

Imaging Sciences

Manuel Gomez-Ramirez

Brain and Cognitive Sciences

Mark Bils

Economics

Mark Bocko

Electrical & Computer Engineering

Mark Fey

Political Science

Martin Zand

Department of Medicine, Nephrology

Marvin Doyley

Electrical & Computer Engineering

Matthew Mccall

Biostatistics and Computational Biology

Mechelle Sanders

Family Medicine

Michael Becker

Department of Medicine, Hematology/Oncology

Michael Huang

Electrical & Computer Engineering

Michael Mcdermott

Biostatistics and Computational Biology

Michael Neidig

Chemistry

Michael Rizzo

Economics

Michael Scott

Computer Science

Miki Nakajima

Earth & Environmental Sciences

Mitchell Lovett

Simon Business School

Mitchell O'Connell

Biochemistry and Biophysics

Mujdat Cetin

Electrical & Computer Engineering

Nancy Chen

Biology

Nese Yildiz

Economics

Niaz Abdolrahim

Mechanical Engineering

Nicole Pecora

Pathology & Lab Medicine

Orna Intrator

Public Health Sciences

Patrick Murphy

Biomedical Genetics

Paul Boutz

Biochemistry and Biophysics

Paul Geha

Psychiatry

Paul Rothberg

Pathology & Lab Medicine

Paula Vertino

Biomedical Genetics

Pengfei Huo

Chemistry

Peter Veazie

Public Health Sciences

Petros Tzeferacos

Physics & Astronomy

Pierre Gourdain

Physics & Astronomy

Qiang Lin

Electrical & Computer Engineering

R White

Department of Medicine, Pulmonary & Critical Care

Rachel Wozniak

Ophthalmology

Ralf Haefner

Brain and Cognitive Sciences

Randall Stone

Political Science

Regina Demina

Physics & Astronomy

Renato Perucchio

Mechanical Engineering

Robert Strawderman

Biostatistics and Computational Biology

Ronald Goettler

Simon Business School

Ross Maddox

Biomedical Engineering

Sally Norton

School of Nursing

Samuel Norman-Haignere

Biostatistics and Computational Biology

Sandhya Dwarkadas

Computer Science

Sarah Kerns

Radiation Oncology

Scott Grimm

Linguistics

Segev Benzvi

Physics & Astronomy

Selcuk Kose

Electrical & Computer Engineering

Seung-Whan Bahk

Laboratory For Laser Energetics

Sina Ghaemmaghami

Biology

Stephen Teitel

Physics & Astronomy

Steven Gill

Microbiology & Immunology

Steven Goldman

Neurology

Steven Ivancic

Laboratory For Laser Energetics

Steven Silverstein

Psychiatry

Suxing Hu

Laboratory For Laser Energetics

Tamal Biswas

Computer Science

Thomas Brown

The Institute of Optics

Thomas Ciucci

Microbiology & Immunology

Thomas Howard

Electrical & Computer Engineering

Thomas Mariani

Pediatrics, Neonatology

Thomas Weber

Earth & Environmental Sciences

Tim Mosmann

Microbiology & Immunology

Timothy Baran

Imaging Sciences

Todd Krauss

Chemistry

Tolulope Olugboji

Earth & Environmental Sciences

Valentin Karasev

Laboratory For Laser Energetics

Vera Gorbunova

Biology

Walter Burack

Pathology & Lab Medicine

Walter Johnson

Data Science Consortium

Warren Hammert

Orthopaedics

Weiguang Wang

Simon Business School

William Jones

Chemistry

William Renninger

The Institute of Optics

Xin Li

Biochemistry and Biophysics

Xing Qiu

Biostatistics and Computational Biology

Yan Bai

Economics

Yan Sun

Microbiology & Immunology

Yongli Gao

Physics & Astronomy

Yue Li

Public Health Sciences

Yufeng Huang

Simon Business School

Yuhao Zhu

Computer Science

Zhen Bai

Computer Science

Zhengwu Zhang

Biostatistics and Computational Biology

Zoltan Oltvai

Pathology & Lab Medicine