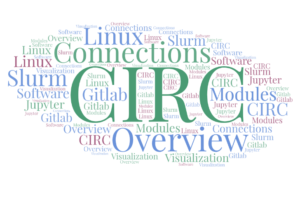 The Center for Integrated Research Computing (CIRC) will provide an online workshop for learning the BlueHive computing environment on Friday, April 7th from 10 a.m. to 3:30 p.m. EDT over Zoom.
The morning sessions are targeted for new and beginning users, and the afternoon sessions cover a few more in-depth topics and new tools and applications that are available for the research community.
For more information, please use the contact-us form.
Sessions are as follows:
Getting Connected
Overview of BlueHive and CIRC
Introduction to Linux
Slurm Resource Management and Running Jobs on BlueHive
Modules and Software
Remote Visualization
Introduction to Jupyter
Introduction to GitLab